Changes are coming to Niagara Falls in 2014.
For the first time since 1846, the Maid of the Mist will have to compete with another company for passengers on their Niagara Falls boat tour!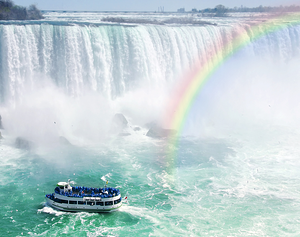 When the 2014 season starts tourists will be able to choose between the Maid of the Mist boat tour leaving from the United States side of the river and the Hornblower Niagara boat cruises leaving from the Canadian side of the Falls.
Pricing for the tours will probably favor the Maid of the Mist by a few dollars. The U.S. side has typically been a little less expensive, probably due to the cost of escalation and the Canadian charge for sales related taxes.
The Maid of the Mist will be basing their operation at the site of the old Schoelkolph Generating Station, which was the site of the fatal rock slide in 1957. The Maid of the Mist and New York State have partnered to renovate the existing structure to provide a base of operations for the Maid.
Hornblower Niagara will be using the existing docks located on the Canadian side of the river. Current plans for Hornblower include the introduction of two new 700 passenger catamaran boats, extended operating hours, tiered viewing platforms, glass enclosures for dry viewing, and onboard washrooms. New for the boat tours will be date and time specific ticketing. Hornblower, by the way, also operates a number of scenic cruises in a number of major tourist destinations and provides ferry service to Alcatraz Island in San Francisco and to Ellis Island in New York City.
Loading passengers on boats that size should be interesting, although Hornblower will be using 2 rapid boarding "facilities" which they feel will actually improve boarding times.
Additional changes will be the addition of new tours and a completely new tour product. The new tours, being introduced by Hornblower, include a morning Sunrise Cruise, anticipated to leave the docks around 7:00 AM and an evening Illumination Cruise (including fireworks on given dates). Completely new, will be the ability to conduct private charters, weddings, and events on a smaller 150 passenger boat. In the past, private charters were not available. Also new for groups of 20 or more, a group express shuttle to the docks, in lieu of the elevators, and a dedicated group check-in location.
It remains to be seen how the Maid of the Mist will respond to these changes. Very little has changed with the Maid of the Mist tours over the years, river water levels were often cited as a reason for the lack of change.
To learn more about Hornblower Niagara Cruises